Well, Grammys 2015 has officially wrapped. The Sunday night (02/08) ceremony honoring achievements in music featured a surprising amount of ballads. From
Madonna
to
Ed Sheeran
, almost everybody who's anybody in music was there. Missed the show? Don't worry, I've got ya covered. Check out my recap of some highlights below:
The show got off to a flame-fueled start as AC/DC opened with a medley of hits. The old boys were "back in black" and sounded as good as ever. The real show stopper? Lady Gaga's fist pumping.
Rather than use the opportunity to promote her current single ("One Last Time"), Ariana Grande continued to make her case as a live act worth seeing last night. The "Problem" singer has spent the last 6 months of album promotion displaying dazzling new control of her silky vocals.
After winning 4 awards, Sam Smith cemented his Grammy takeover with a beautiful performance of "Stay With Me", which won earlier in the night. He brought out Mary J. Blige for a duet rendition of the song and well, Mary being Mary, she stole the show. Miss Blige most definitely didn't get any hateration or holleratin'. The duo's performance was later re-aired during the credits of the awards program.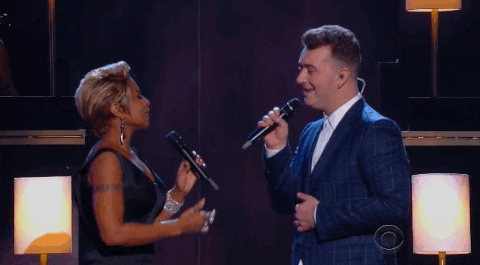 "Oh, won't you- slaaaaay with me?"

Tony Bennet and Lady Gaga also made a quaint but enjoyable performance of the title song from their album, "Cheek to Cheek". Their strong charisma is odd, but appreciated.
Katy Perry
came out draped in white to remind us all that she is the safest performer in the industry. Even at her edgiest, Katy is pretty tame. However, safe doesn't mean she's not entertaining. She's usually a source of good entertainment without ever really achieving greatness (except her superbowl lion, that was superb). Props nontheless to Katy's performance for shedding a light on violence against women.
Prince came out dressed like your cool aunt to remind us that albums still matter.
Better believe that side-eye game is strong.


A simple white backdrop provided the stage setting for Rihanna, Kanye West, and Paul McCartney to take over. Rihanna's subdued "FourFiveSeconds" was performed beautifully, although the performance came across as a bit uneventful considering the lineup.



The internet kinda went meme-crazy over Rihanna's pom-pom dress.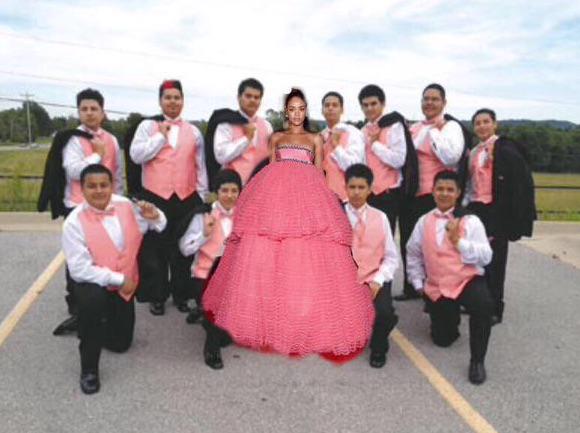 Everyone loves to get their Madonna on. Apparently so does Madonna. Since the launch of her last album, "MDMA", the queen of pop has seemingly been releasing music that tributes her own career and past works by revisiting old imagery and themes. Madge's matador themed performance of "Living for Love" was no exception. Every performance and music video since her 2013 Superbowl halftime show seems to be part of one big tribute - to herself. In 2015, I'd like "Rebel Heart" Madonna to focus on creating new material and aesthetics organically.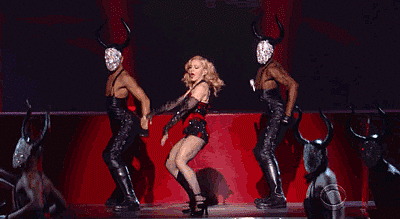 Then again, she does what she does best. We'll all be entertained either way.
Sia
let us know that she's on an alien level of performance artistry and no one but Maddie Ziegler (from Dance Moms), Shia LaBeouf, and Kristen Wiig can understand her. Sia came out a vocal champion in a performance that had her face a wall while belting out her hit "Chandelier." The song ultimately didn't win any awards for Sia at last night's event, which is a downright shame. Sia's vocal performance was easily the best sonic feat to hit mainstream least airwaves this year.
Juanes performed a song in Spanish but it honestly came off as more of an advertisement for Disney's white savior complex film "McFarland USA" as opposed to an actual performance piece. If Disney wanted to shamelessly self-promote, why not have Idina perform the now Oscar AND Grammy award winning song "Let It Go"? I can't be the only person itching for a flawless live performance of the song after a botched Oscars performance last year. Or maybe I am.
Unlike Disney's plug for McFarland USA, the tribute to Selma came across with heartfelt sincerity thanks to the caliber of of performers involved.
Common
was absolutely stupendous with
John Legend
by his side to perform their Oscar nominated song, "Glory".
Beyonce
urged the audience to put on their Sunday best by performing "Take My Hand Precious Lord". World stop.
Carry on.
Bey added some nice sippy cups for Blue Ivy to her collection. However, none of them were for Album of the Year. 'Yeezy got mad and almost pulled a stunt like in 2009 with Taylor Swift, but retreated last minute.
"Alright, who gave 'Ye a bottle of Henny?"
All in all, the awards were packed with ballads and somber moments. OH AND BY THE WAY, IGGY AZALEA DIDN'T WIN A THING. So that settles that. But Eminem won for Best Rap Album. Can't win 'em all I guess (unless you're 'Em).



As for the rest of the winners, you can find them
here
. Now you won't be left out of the water cooler talk all week. You're welcome.